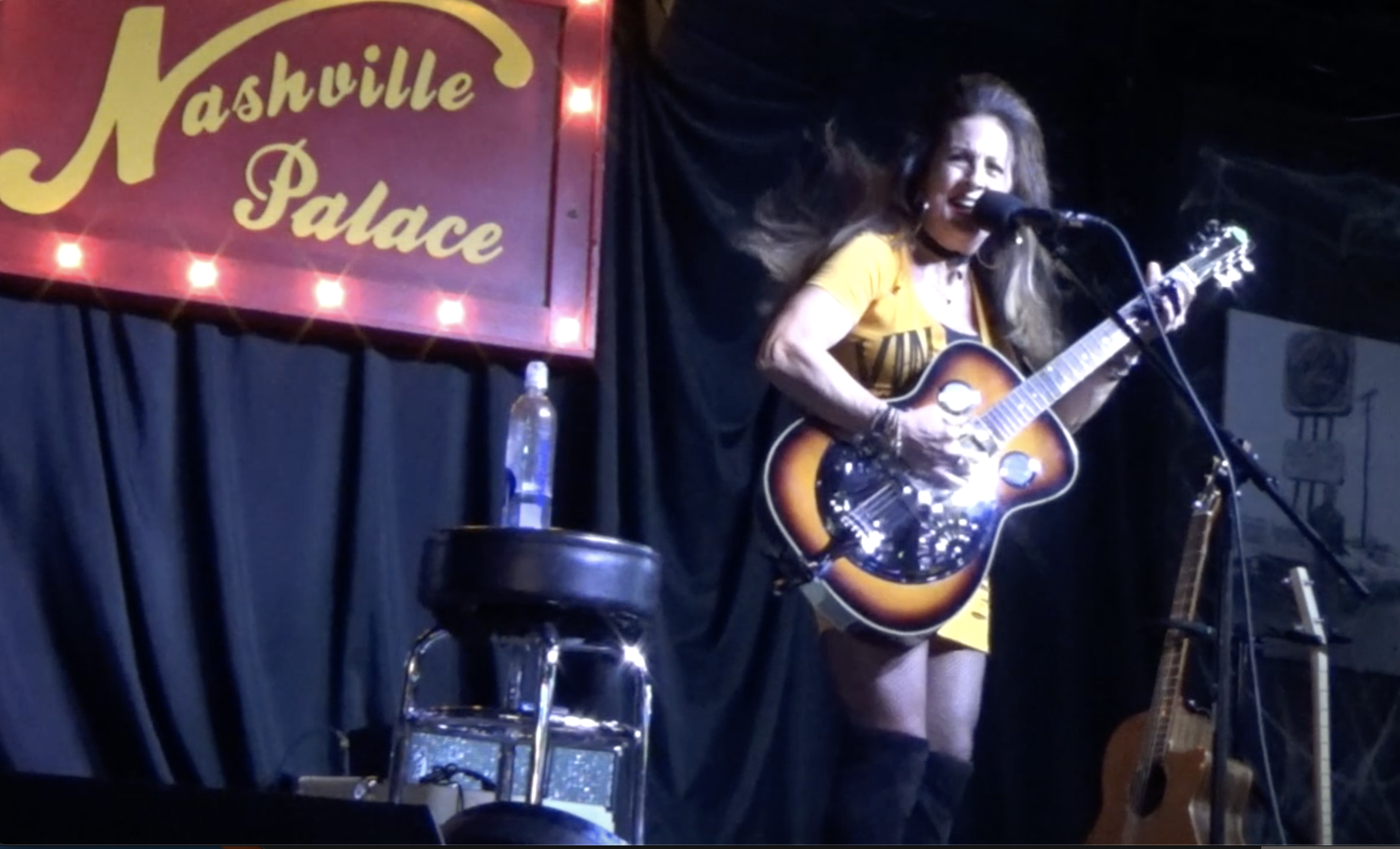 ROCMusic and Performance®  
(For a few of our Student projects please scroll to the bottom!)
Private in person & online Music Lessons
w/ me, Deborah Magone !
I'm a current Artists advocate & member in good standing of Grammy® & the
National Association of Recording Artists (NARAS), SAG-AFTRA, BMI & ASCAP
I teach lessons in Guitar, Voice & Bass guitar for beginning & intermediate students.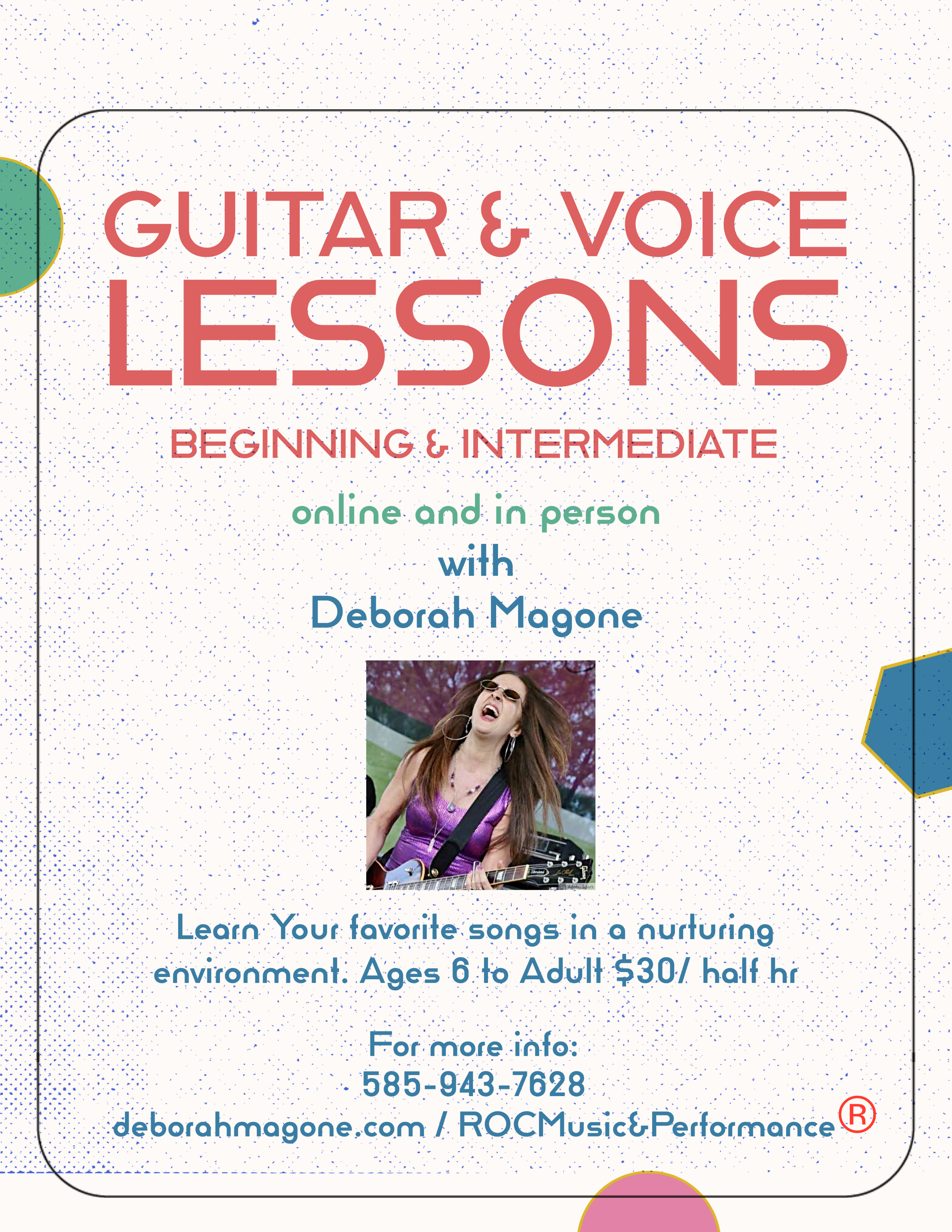 My Welcome video!
            Being of service to others in ways that brings joy & empowerment into their lives is truly a passion of mine. Watching my students , both young and old, grow, develop and have fun learning music is what I do. Its truly a gift to have the desire & the tools to be able to express yourself through music. 
        It's also one of the best ways to lift your spirits & maintain a healthy mindset.  Learning music can benefit your overall well-being. Some even call it a brain workout. Studies show that people who take music lessons improved their attention, memory and problem-solving abilities , along with their moods and quality of life. And You don't have to become a pro! It's easier than you think. You'll be playing part of an easy song at your very first lesson!
  I LOVE teaching music! I've been doing it for over 45 years now.  I teach all styles from Pop, Folk, Country, to Rock & Blues, & we can use any songs of YOUR choice while learning! I also teach songwriting.  It's been a wonderful experience helping my pre-teen & teenage Students especially, to express themselves in such a positive, constructive nurturing way.
 I've been a professional teacher, guitarist, vocalist, songwriter, Grammy international recording Artist, producer, & performer for decades in Los Angeles and here in Rochester,NY. I specialize in beginning & intermediate students from 6yrs to 65+yrs and beyond.
 I truly enjoy what I do! I'm a patient, positive and supportive teacher and I LOVE watching my students grow in whatever styles they enjoy no matter the age or genre!  Scheduling is always flexible because life and stuff happens and we make it fit.  Lessons include basic theory while also diving into learning your favorite songs.
   A special part of my instruction consists of giving students real life onstage & recording experience..  You can see & actually feel what it's like to be a professional performer playing songs you choose & love, on a live stage in front of a real audience or in a real recording studio.  We also create Student music videos using your favorite songs. If you're not local to Rochester, NY, and receive online lessons, I  can assist you in creating an online video performance to be proud of.  You can keep it private or share it online with family & friends. We also have a private group page on Facebook to stay in touch and post music info & projects to share with fellow ROCMP students. We often do our local Rochester recitals on stage at a family friendly venue.
Recitals & video creation are all totally optional, I want this to be fun for You.
Lessons are now in person AND globally on Zoom. 
Feel free to read a few reviews below, there's many more on Thumbtack where I've earned "Top Pro Status" ! Then watch the performance videos, and then email me through this website or call at 585/943-7628 with any questions you might have.
Give Yourself or Someone You Love the Gift of music!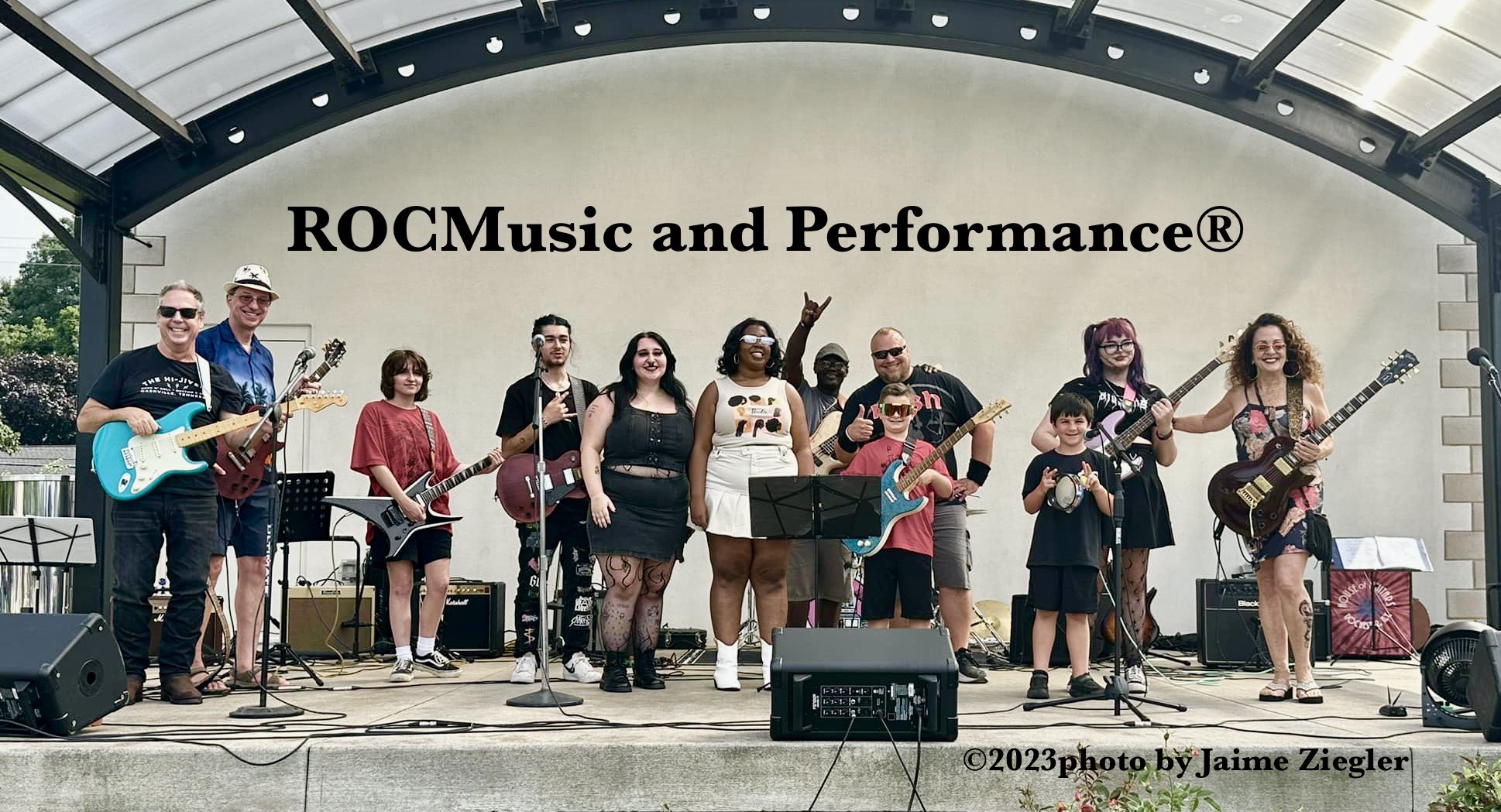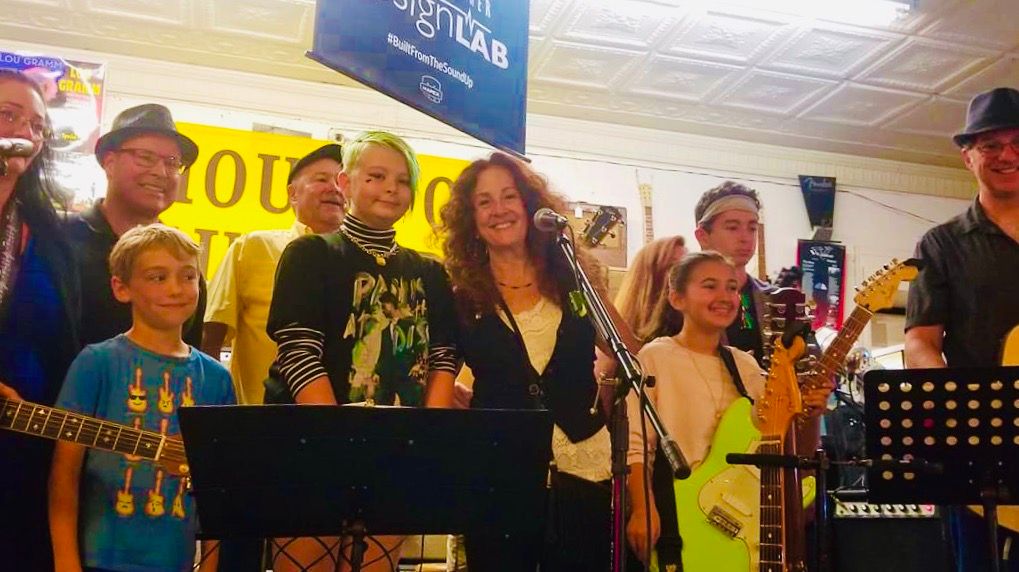 CLICK HERE for Deborah's Thumbtack profile !
You can email me at dmagone@gmail.com to chat & ask questions. I teach globally on Zoom .
Thanks so much for your interest ! 
Cheers, 
Deborah
*** Just A few of the many positive LESSON REVIEWS from Thumbtack ***
John D. 
Guitar Lessons (for adults) 
"Deborah is simply a fantastic teacher. She works with you one-on-one and will tailor lessons based on your time and skill level. Don't hesitate to learn from a great guitarteacher and person."
***********************
Rick P.  
Guitar Lessons (for adults) 
Currently taking guitar lessons and Deborah is making it a lot of fun. She also teaches voice lessons and she's been giving me some pointers there as well.
**************************
John W. 
"My grandchildren (Corey and Natalie) are students of Deb and absolutely love their lessons. No one could be more pleased with the instruction she has given them and the progress they have made. Nat takes voice and bass lessons. Sometimes Deb and her record songs they create together. Corey takes guitar and is playing Rush tunes already!!! Deb has a unique ability to communicate with the kids and they respond to her teaching techniques and always look forward to their lessons with enthusiasim. Even more important to us than her ability to communicate and teach was the fact that she is a wonderfull human being and as such a fine example for children. We are most fortunate to have her as a teacher for our grandchildren."
#ROCMusicandPerformance
#musiclessons #musicistherapeutic #rock #blues #bluesrock #pop #folk #country #guitar #bass #voice #lessons #lessonsforallages  
SOME STUDENT ACCOMPLISHMENTS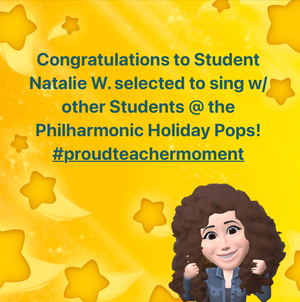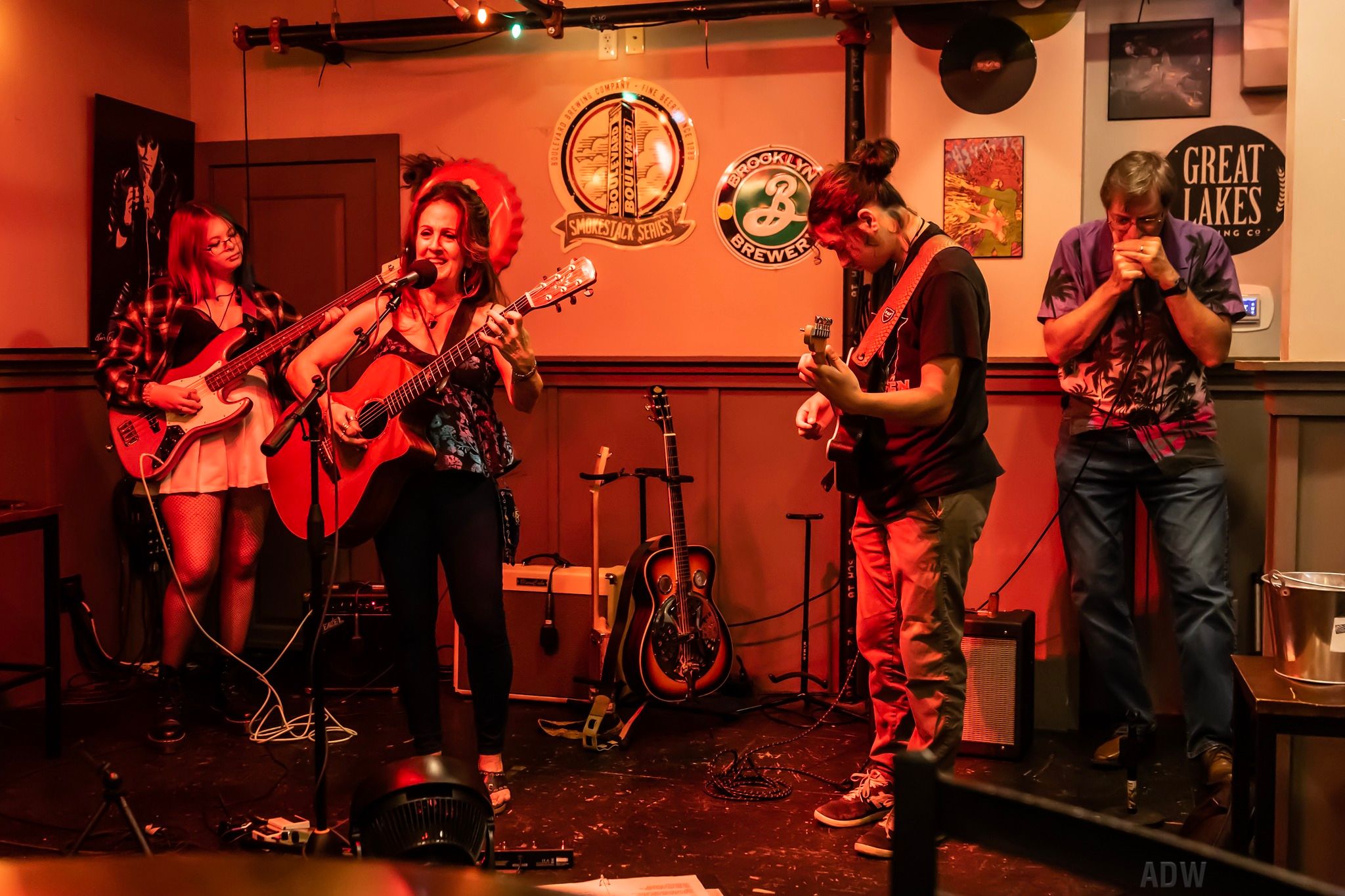 One of our live performances with Natalie (bass), Corey (lead & rhythm guitar) & Rick (harmonica) at the Fairport BSide ! Always a nurturing environment loaded with wonderful music experiences!
    My Students learn to be at home in front of audiences. They pick songs of their choosing, put in the practice AND the rehearsal time and its such a joy! They also learn how to deal with any challenges during a performance when things don't always go as planned. Pictured above here are 3 of my more senior Students. We had a few technical glitches that evening & they didn't miss a beat!  #proudteacher #awesomestudents #ROCMusicandPerformance
Patrick 6 yrs young.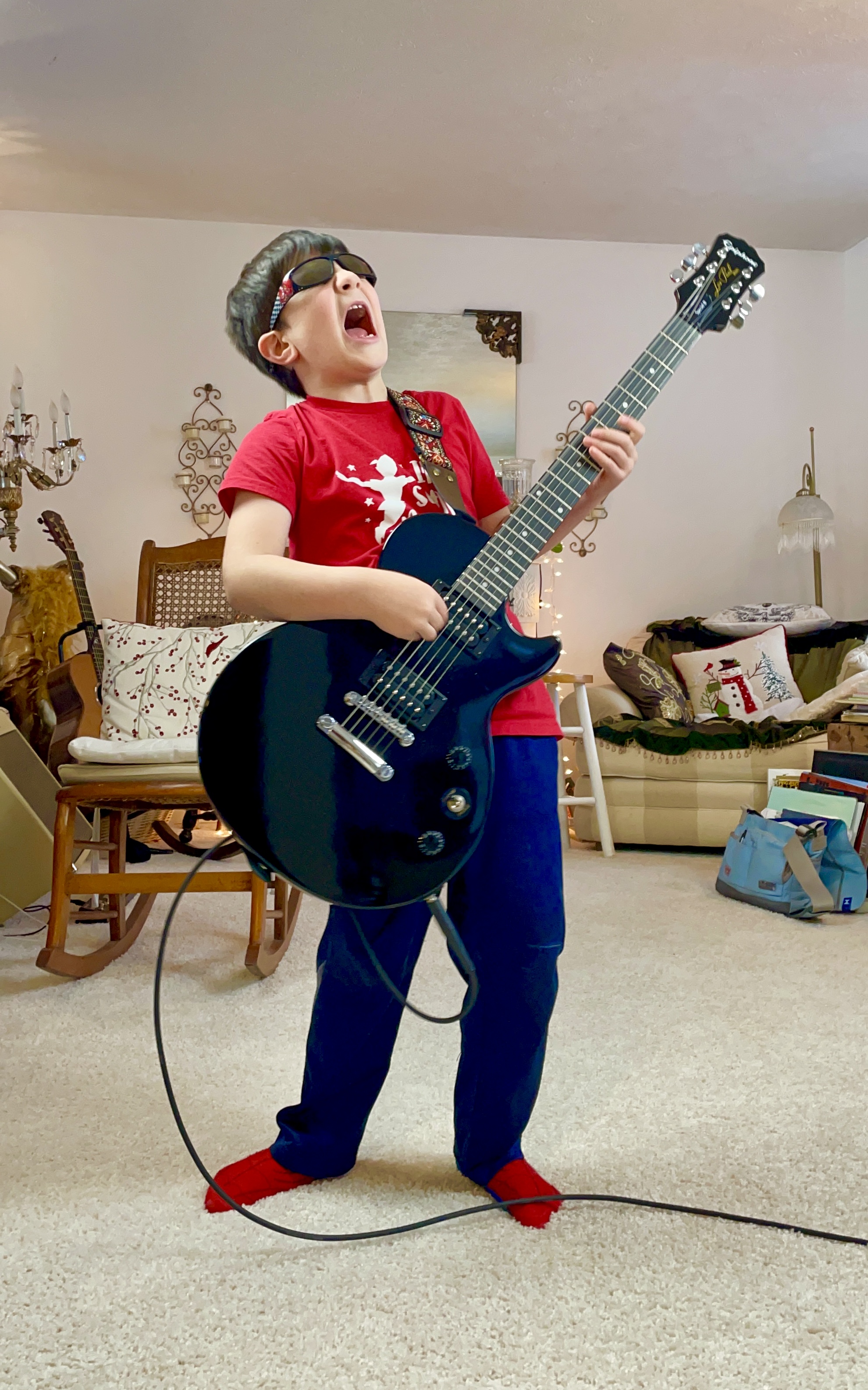 Student Video Project Dec. 2021
Jetty at the Port " Teach Your Children"