"

"Deborah's slide attack that can cut through a laser beam…. It's the way Deborah sings the words that hits a bulls-eye in the soul, unleashing her pulverizing assault, a she-devil pouring her heart into both guitar playing & singing with a lust for grabbing the music by the throat & strangling it like it needs to be woken up.!"" - John Bates
— " Blues Blast Magazine " Australia
Press Photos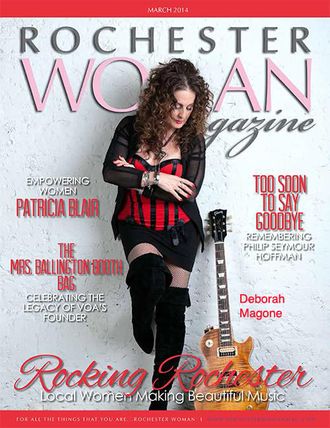 PRESS QUOTES
...from bluesy barroom rock 'n' roller to grandiose chanteuse.... Magone's dusky voice is still there, but I don't remember her range being so stratospheric; she pegs the high notes effortlessly. At moments, her vocal acrobatics are reminiscent of Mariah Carey. 
- Frank DeBlase - City News - Rochester,NY
"This girls got it!"
- Eddie Money    
 "Deborah has command of the stage, very electrifying!"
– Ron Nevison
 Producer  ( Led Zeppelin, The Who, Heart )
" If you have a soft spot for pretty women wielding a Les Paul guitar cranking out high-voltage riffs that give you an instant rush, than you can add Deborah Magone's Alternate Realities to your playlist. Magone wastes no time in announcing her entrance to the blues rock world." 
- Gary Weeks - Blues Blast Magazine 
" Switching from loops to sailing solos with just her guitar to keep her afloat, Magone rocked it hard. Magone never strayed too far from the blue notes, frying the frets of her guitar - and my soul - with a vicious slide." 
- Frank DeBlase - 98.9FM The Buzz Entercom & City Newspaper 
"Bernie Taupin wrote "Black On Blue," Mark Paladino wrote the music. Deborah's vocals bring it to life, sends shivers down my spine!" 
- Ken Wallis - 101.5 FM The Hawk Radio - Canada
" I get CD's from many major blues labels on a regular basis. Also Americana artists. .....( Alternate Realities ) ROCKS & the acoustic tunes are soulful & pretty. ..... the best CD I have received in a long, long time. "
- Brother Wease - 95.1FM The Brew, Clear Channel Radio, Rochester , Ntl Radio Hall of Fame
" This is one of the best ass kicking blues rock Cd's I've heard since Zeppelin. I'm struck by the versatility in her voice, Deborah can tear it up like Janis Joplin & Ann Wilson (Heart), turn around & give you chills with some Gospel or just a soft Ballad. Just a Great CD from beginning to end ! "
- Joey Tuchrello - FREETIME Entertainment Magazine - Rochester,NY
" Deborah does it well, great voice. Reminiscent of Beth Hart/Melissa Etheridge/Heart. Bonnie Raitt with balls and a splash of Robert Plant. "
- Recording Engineer, Santa Monica, CA :) 
" You must hear this high spirited artist in person to truly appreciate what a gift she has for all of us.....for our times and in our lives." The quality of her voice resonates into the depths of your heart in ways that cannot be contained on a digital CD." 
- Anthony & Mary Lipnicki owners of The Mustard Seed Inn, Andover, NY 
" Deborah Magone is Janis Joplin with a guitar, Ann Wilson on caffeine with a touch of Evanescence in the middle! She leads a powerful rock band with a blues foundation & something to say. Her's is a wonderfully playful stage presence, fronting a band that wants to rock your britches off! " 
- Local Rochester Fan /TV Producer 
".......a holistic spiritual gutbucket organic blues Goddess, and quite possibly the only one in the world......." 
- Paul Blackburn - Jazz / Blues Artist, Rochester, NY - deborahmagone.com 
" Whimsical to walloping, Blues, Boogie & More" 
- LA Reader, Los Angeles, CA 
"A lady whose been rocking Rochester ..... gets a whole lotta respect in our area,... an army of fans in her back pocket.... wherever her powerhouse voice takes her. Check her out!"
-Michelle Picardo, Freetime Magazine 
"Debra Magone's sound and musical style represents the most authentic rock n' roll presentation our awards program has heard in the past two decades."  
- Al Bowman, Founder / Executive Producer - LA Music Awards 
My music school ROCMusic & Performance is currently online during #stayathome ! 
ROC Music & Performance online music lessons in Guitar, Bass, Voice, Songwriting, & Performance in a safe, positive, & nurturing environment. All ages, specializing in beginning, intermediate and autistic students.